TÅNGSALT | BLACK SEAWEED SALT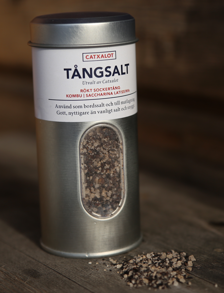 Price:
98 kr
Inc. 12% Tax
Quantity:
In Stock
See English below.
Ett bränt tångsalt från Island. Innehåll: rökt/rostad sockertång (Saccharina latissima) från Island och havssalt från Island. Använd som bordssalt och i matlagning. Gott på avocado, ägg, tomat, fisk och mycket annat. Plåtburk. Vikt innehåll: 120g. Ursprung: Stykkisholmur, Island.
.
.
SEAWEED SALT
A burned/roasted seaweed salt from Iceland.
Content: Smoked / Burned Sugar kelp (Saccharina Latissima) from Iceland and Sea Salt from Iceland.
Use as table salt and in cooking. Jummy on avocado, eggs, tomato, fish and much more. Tin jar. Weight content: 120g.
Origin: Stykkisholmur, Iceland.