RÖKT TÅNG PULVER | SMOKED SEAWEED POWDER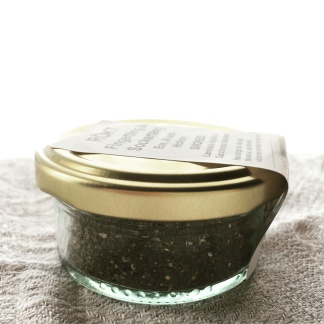 Price:
139 kr
Inc. 12% Tax
Quantity:
In Stock
RÖKT TÅNGPULVER
See English below.
Rökt tång, torkat och malt till ett fint pulver. Ger maten en smak av rök. Inga tillsatser.
Gott i majonnäs, som fiskkrydda m.m.
RÖKT TÅNGMAJJO
2 äggulor
1 tsk dijon
2 dl neutral olja
1 msk risvinäger
1 tsk vatten
2 krm tångsalt
1 tsk honung
ca 2 tsk rökt tångpulver, ev lite mer. Stänk gärna lite, lite vatten i pulvret så att det sväller och mjuknar en smula.
ev gräslök
Blanda äggula och senap. Vispa ner oljan, i början droppvis, under omrörning. Blanda i rökt tång, gräslök och citron. Mixa ev i gräslöken för att få en grön vårig majonnäs. Alternativt klipper du gräslöken fint och blandar i majonnäsen.
.
.
SMOKED SEAWEED POWDER
Smoked seaweed, dried and ground to a fine powder. Gives the food a taste of smoke. No additives. Good in mayonnaise, to spice up fish dishes and more.
Recipe:
SMOKED MAYONNAISE
2 egg yolks
1 teaspoon dijon
2 dl neutral oil
1 tablespoon rice vinegar
1 teaspoon of water
2 tablespoons seaweed salt
1 teaspoon honey
2 teaspoons smoked seaweed powder, maybe a little more.
Sprinkle a little bit of water into the powder to swell and soften. Mix the egg yolk and mustard. Add the oil, initially dropwise, with stirring. Mix in smoked seaweed, chives and lemon. Mix in the chives for a green spring mayonnaise. Alternatively, cut the chives carefully and mix in the mayonnaise.