NORDISK UMAMI #2 | NORDIC UMAMI #2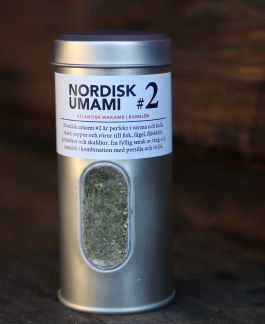 Price:
149 kr
Inc. 12% Tax
Out of Stock
See English below.
Kryddblandning som är god i varma och kalla såser, soppor och röror till fisk, fågel, fläskkött, äggrätter, grönsaker och skaldjur. Den har en frisk och fyllig fyllig smak av tång och ramslök i kombination med persilja och vitlök.
Innehåll och ursprung: Isländsk atlantisk wakame (Alaria esculenta) 30% - innehåller jod. Svensk ramslök, persiljerot, tysk persilja, finsk schalottenlök, vitlök. Kan innehålla spår av skaldjur. I samarbete med Svensk Gourmetsvamp.
Plåtburk. Vikt innehåll: 25 g.
TÅNGKRYDDAT VITLÖKSBRÖD
smör
nordisk umami #2
vitt/ljust bröd
ev lite tångsalt
Sätt ugnen på 225 grader. Skiva brödet. Smält smöret, blanda i Nordisk Umami 2 och en nypa tångsalt. Tag kastrullen från plattan och låt stå och dra ca 5 min så att smakerna gifter sig. Bred/häll smöret på brödskivorna med en tesked. Gratinera i ugn på 225 grader tills brödet fått fin färg, ca 10 min.
.
.
NORDIC UMAMI #2
Spice mixture that is good in hot and cold sauces, soups and stews for fish, poultry, pork, egg dishes, vegetables and seafood. It has a fresh and full-bodied taste of seaweed and garlic in combination with parsley and garlic.
Content and origin: Icelandic Atlantic wakame (Alaria esculenta) 30% - contains iodine. Swedish ramson, parsley root, German parsley, Finnish shallots, garlic. Can contain traces of seafood. In cooperation with Svensk Gourmetsvamp
Tin jar. Weight content: 25 g.
Recipe:
CRUST BREAD WITH SEAWEED BUTTER
butter
Nordic Umami # 2
white / light bread
a pinch of seaweed salt
Put the oven at 225 degrees Celcius. Slice the bread. Melt the butter, mix into Nordic Umami 2 and a pinch of salt or seaweed salt. Take the saucepan off the plate and allow to stand for about 5 minutes to get the flavors together. Put the butter on a slice of bread with a teaspoon. Gratinate in an oven of 225 degrees until the bread has a nice color, about 10 minutes.