BOHUS FURIKAKE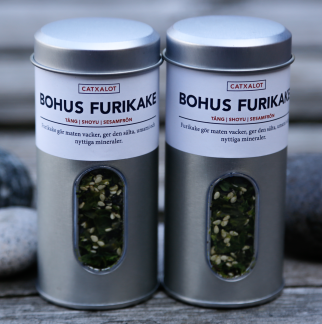 Price:
149 kr
Inc. 12% Tax
Quantity:
In Stock
See English below.

Japansk kryddblandning på svenska. Servera till och på kokt ris, potatismos, stek med fisk, skaldjur, ugnsrostade rotfrukter m.m. Innehåll: svensk vild sockertång (Saccharina latissima), svensk vild rörhinna (Ulva intestinalis), ekologiska svarta och vita sesamfrön, ekologisk japansk soja.
Plåtburk. Vikt innehåll: 60g.
Ursprung: Bohuslän.

.
.
FURIKAKE GOES SWEDEN
Japanese spice mixture in Swedish style. Serve with warm rice, mashed potatoes, fry with fish, seafood, sprinkle on roasted vegetables, etc. Contents: Swedish wild sugar kelp (Saccharina latissima), Swedish wild seagrass (Ulva intestinalis), black and white sesame seeds, organic Japanese tamari.
Tin. Weight content: 60g.
Origin: Seaweeds from Bohuslän, Swedish West coast.