BLÅSTÅNGSKNOPPAR | BLADDERWRACK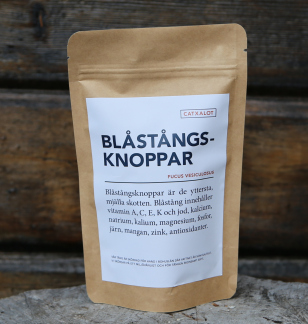 Price:
80 kr
Inc. 12% Tax
Out of Stock
See English below.
De yttersta bladtopparna på vild blåstång (Fucus vesiculosus) som torkats i solen. Blötlägg i 5-10 min tills tången blivit mjuk. Koka 5-10 min till önskvärd mjukhet och spola i rikligt med kallt vatten för att bevara den gröna färgen. God att använda i sallad, fisksoppa, som tillbehör till fisk, som dekoration, steka chips på. Kan även malas och strös över maträtter. Ger en smak av hav.
Papperspåse. Vikt innehåll: 10g. Ursprung: Bohuslän.
.
.
BLADDERWRACK
The tips of Bladderwrack (Fucus vesiculosus), dried in the sun. Soak for 5-10 minutes until it become soft. Boil 5-10 minutes to desired softness and rinse in plenty of cold water to preserve the green color. Good to use in salad, fish soup, as an accessory to fish, for decoration, fry chips. Can also be grinded and sprinkled with dishes. Gives a taste of the ocean.
Paper bag.
Weight content: 10g.
Origin: Bohuslän, Swedish West coast.