TÅNGPILLER, HÄLSOKOST | SEAWEED PILLS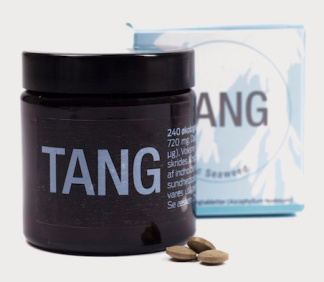 195 kr
Inc. 12% Tax
Type:
Tångtabletter
Quantity:
In Stock
See English below.
Ekologiska tångtabletter från det danska företaget Organic seaweed. Råvaran kommer från Norge.
Knöltång (Ascophyllum Nodosum) innehåller ett brett utbud av naturliga näringsämnen; spårelement, vitaminer, antioxidanter, aminosyror, omega-3 och 6 fettsyror och mineralämnen inklusive jod, som hjälper till att balansera energimetabolismen, nervsystemets normala funktion, normal kognitiv funktion och upprätthålla normal hud och hår. Dessutom innehåller tångtabletten 10%
fucoidan
.
Rekommenderade daglig dos (RI):
Barn 1-10 år = 1 tablett (62 mcg jod) motsvarar den rekommenderade dagliga dosen av 70 ug jod. Vuxna = 2 tabletter (125 mikrogram jod) motsvarar den rekommenderade dagliga dosen av 150 ug jod. Den dagliga dosen bör inte överskridas.
På grund av jodhalten bör tång tabletter först efter samråd med en läkare eller hälsa för gravida kvinnor och barn under ett år. Kosttillskott bör inte ersätta en varierad kost.
Förvaras utom räckhåll för barn. Skydda mot fukt. Läs mer https://www.organicseaweed.dk/arkiv/
Varje tablett innehåller:
• 100-98% ekologisk knöltång (Ascophyllum Nodosum)
• 0 till 0,8% kiseldioxid
• 0-1% talk
Alger är en naturlig råvara som varierar från säsong till säsong och där den växer. Därför kommer det att finnas skillnader i slutprodukten, såsom olika färger. I syfte att upprätthålla näringsämnen torkas tången i 27 grader och formas sen till tabletter med endast naturliga excipienter tillsatt. Varje tablett består av 0,3 g torkad ekologisk tång, importerad från Norge. Här hittar du dokumentation för den ekologiska statusen och analyser på innehåll: https://www.organicseaweed.dk/arkiv/
Och om du behöver mer kan du få svar på de vanligaste frågorna här: https://www.organicseaweed.dk/ofte-stillede-spoergsmaal/
240 tabletter. Nettovikt 720 mg.
.
.
SEAWEDD PILLS ORGANIC
Organic pills from the Danish company Organic Seaweed. Nutritional supplement. The seaweed is from Norway.
Rockweed (Ascophyllum Nodosum) contains a wide range of natural nutrients; trace elements, vitamins, antioxidants, amino acids, omega-3 and 6 fatty acids and minerals including iodine, which help balance energy metabolism, normal functioning of the nervous system, normal cognitive function and maintain normal skin and hair. In addition, the tablet contains 10% fucoidan.
Recommended daily dose (RI):
Children 1-10 years = 1 tablet (62 mcg iodine) corresponds to the recommended daily dose of 70 μg of iodine. Adults = 2 tablets (125 micrograms iodine) correspond to the recommended daily dose of 150 μg of iodine. The daily dose should not be exceeded.
Due to the iodine content, tablets should only be consulted with a doctor or health for pregnant women and children under one year. Nutritional supplements should not replace a varied diet.
Keep out of reach of children. Protect from moisture. Read more:https://www.organicseaweed.dk/arkiv/
Each tablet contains:
• 100-98% ecological tuberculosis (Ascophyllum Nodosum)
• 0 to 0.8% silica
• 0-1% talk
Algae is a natural raw material that varies from season to season and where it grows. Therefore, there will be differences in the final product, such as different colors. In order to maintain nutrients, the pliers are dried at 27 degrees and then formed into tablets with only natural excipients added. Each tablet consists of 0.3 g of dried organic seaweed imported from Norway. Here you will find documentation for the ecological status and analyzes on content: https://www.organicseaweed.dk/arkiv/