TÅNGLYKTA LITEN | SEAWEED CANDLE LIGHT SMALL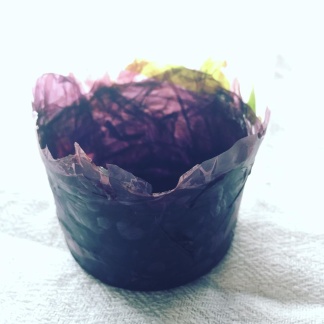 Price:
298 kr
Inc. 25% Tax
Type:
Tånglykta liten
Quantity:
In Stock
See English below.
Ljuslykta tillverkad av purpurhinna och havssallad, två vackra tångsorter som silar ljuset på ett magiskt sätt. För värmeljus.
Ljuslyktan SALTAS silar ljuset på ett magiskt sätt. Saltas ljuslykta är tillverkad av vilda purpuralger från västkusten. Lyktan tillverkas för hand och varje exemplar är unikt. SALTAS vittnar om havets mystik och ger varma nyanser som påminner om ametistkristall. En liten bit av havet i ditt hem.
Materialet är absorberande och bör inte vara i kontakt med vätska. Bör inte vara i direkt kontakt med eldlåga, då den förkolnar.
Lyktan är 100% komposterbar. Den sorteras som matavfall eller slängs i komposten, då den ger näring till jorden.
​​​
Konsthantverk från Algaebra.
.
.
SEAWEED CANDLELIGHT
Candlelight made of seaweeds (Ulva and Porphyra), two beautiful types of seaweeds that illuminate the light in a magical way. For candles.
The candle light SALTAS shines in a magical way. Saltas is made of wild Porhyra (Nori) from the west coast of Sweden. The lamp is manufactured by hand and each specimen is unique. SALTAS testifies to the mystery of the ocean and gives warm shades resembling amethyst crystals. A little bit of ocean in your home.
The material is absorbent and should not be in contact with liquid. Should not be in direct contact with fire, as it decolorises.
The lamp is 100% compostable. It can be composted as food waste or thrown into the compost as it nourishes the ground.
A piece of craft from Algaebra.