ECO MARINE EXTRACT FACIAL CREAM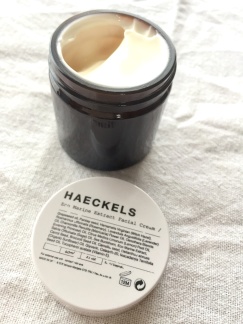 564 kr
Inc. 25% Tax
Quantity:
In Stock
A daily moisturiser from HAECKELS in Great Britain. For normal or dry skin in need of nourishment.

Containing potent doses of a powerful anti wrinkle active which strongly stimulates production of structural skin proteins. Tests showed the capacity to stimulate cellular proliferation which significantly increased collagen synthesis by 19.3% using a 2% concentration.

Helps to improve the appearance of fine lines and wrinkles especially around the eyes. Improves elasticity in skin that has lost its tone and improves skin hydration. Promotes healing and strengthens skin whilst restoring its natural suppleness and radiance.

Especially rich in omega 3 and sterols it is soothing, anti inflammatory and offers some protection from UVB rays. As a powerful antioxidant, it protects the dermal matrix from further degradation. Anti inflammatory and protective, it plays an important role in the skin's barrier function due to its repairing properties. Effective in blends for scars, burns and damaged skin. Some clinics are even using this in preparation for surgery as it helps the skin recover post operatively. Beauty clinics are using it to restore the skin after deep peels and laser resurfacing.

60 ml.
Made by HAECKELS, Made of margate, Great Britain.