Catxalot holds courses, talks, kayak tours and hikes about seaweed and beach plants for anyone who wants to learn how to harvest and use the seas delights in a sustainable way.

You are also very welcome to contact us if you want a tailor made experience.

We will be very happy if you after joining us wrote a review on Tripadvisor!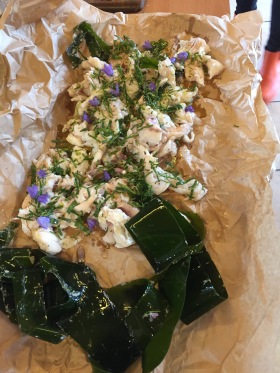 All inclusive experience with seaweed and oysters in beautiful Havstenssund, Sweden.
Four experiences in two days with one night at Grebbestad Mini Hotel.
Dag 1: Start 11.00. Seaweed safari with foraging & lunch. Inspirational seaweed dinner with seaweeds in everything is served at Catxalots old warehouse.
Dag 2: Breakfast at café Sjögrens i Backen. Visit an oyster farm. See how oysters is breaded in the wild. Havstenssund Oyster Farm. Taste. Surprise dinner from the ocean. A talk & cook session in our food studio with whats best for the season. All finished in the afternoon day 2.
Read more.
Seaweed foraging and cooking class
All-day course with seaweed foraging and cooking. You will forage and prepare the seaweeds yourself during this course. After foraging at the beach we go to Catxalot's warehouse in Havstenssund and cook together a variety of dishes that contain seaweeds.
If weather permits, we eat up on our lookout / terrace on the mountain. Read more & book here!
Introductory course for those who want to harvest seaweed in a sustainable way and lear how to use them. We will identify different edible seaweeds, talk about when they have their best season, how to forage sustainable and how to use the seaweeds in cooking.
If you like you go into the ocean with us, or you just relax, watch and learn.
The safaris takes place just outside Grebbestad or nearby. Read more and book! Or book at Airbnb Experinece.
Oysters & seaweed dinner on a beautiful island
Come to Kalvö in Fjällbacka archipelago and discover oysters and seaweed. In what became internationally known as "The world's most beautiful archipelago", you find Kalvö, an island with charming old buildings, tranquility and beautiful scenery. The commodities are already fished and picked so it's just to come! The dinner is served in Everts Hus - a charming old fisherman's cottage on Kalvö. Åsa and Linnéa serves a range of small dishes with oysters, seaweed, fish and / or sea crayfish and inspires what you can do on your own home. It will be an unforgettable wild dinner in a crazy beautiful setting. Read more. Booking: contact Kalvö ostron.
Heal the beach - pick marine litter and taste ocean food
(a company or private group event)
Make an active environmental effort with your colleagues and have a wonderful day outdoors!
The seaweed company Catxalot takes business groups into a beach full of junk where we together create wonders and pleasure. This junk event is a guaranteed unique food and nature experience that unites environment engagement with joy. We clean the beach from marine junk and you learn what is good to eat on the beach - seaweed, mussels, oysters and beach plants. You get exercise, eat good food, learn useful things and make an effort for the environment.
Tasting samples, coffee or a small lunch at the beach are available as an addition. Before the gloves are pulled on, a presentation about marine junk is given.
On this workshop, you harvest seaweeds and make differens pickles of it. Pickled seaweeds are very tasty and beautiful to decorate with. Read more & book here!
Cooking class with and about seaweed - the new exciting vegetable of the sea. You will cook one dish each and we eat it together. Combine this class with a seaweed safari if you also want to learn how to harvest the seaweed yourself. Read more and book!
Take a guided paddle trip in Grebbestad archipelago where it is close to open sea and the seaweeds are the finest. We look for the seaweed, paddle at a slow pace and harvest from the kayaks. Using a special tool, we reach the varieties that grow a bit deeper. Read more & book here!
Seaweed kayaking and snorkling tour
Seaweeed safari in the archipelago of Grebbestad with kayak and snorkling gear. During a day trip we harvest from the sea kayaks and when we are snorkling/freediving). During the trip the seaweed guide will share information on seasons for harvesting, nutrients and who to make seaweed into healthy snacks.
Read more & book here!
Christmas food with seaweeds
Seaweeds are delicious and exciting to use in Christmas food. You will cook things like Swedish "Janssons temptation", omelettes, Brussels sprouts, Christmas nuts, pralines, crackers and more. Some recipes contain fish, but by the way, most dishes are vegetarian or vegan. Read more & book!
The finest skin care is the one you make on your own. Seaweed baths, face masks and salty scrubs are simple and fun to move together. During this workshop you will learn to make products for a beneficial face and body treatment with seaweed. Read more & book here! Or book at Airbnb Experinece.
Seaweed lecture with taste samples
We present seaweed that are good to eat and show pictures or seaweed that we picked. You will know what varieties can be eaten, what to do with it, what they contain, season, how to forage them, etc. The presentation ends with a few taste samples. This event is for corporate bookings or private groups. Contact us for information!
Seaweed safari with a seaweed taste sample buffet
Follow us on a guided tour to the beach that ends with taste samples. You will forage by your own or just look and learn. After the trip to the beach we drive to our port warehouse in Havstenssund and eat a seaweed buffé. This event is perfect for small groups etc that wants an event on their own. Please contact us for more information.