SOCKERTÅNG, 10g | SUGAR KELP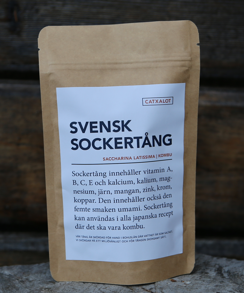 Price:
69 kr
Inc. 12% Tax
Quantity:
See English below.
Hela bitar av vild soltorkad sockertång (Saccharina latissima). Blötlägg i ca 10 min eller tills den blivit mjuk. God att woka, steka, fritera. Blir grön vid upphettning. Smula/bryt ner torkad sockertång i soppor och grytor. Använd torkad sockertång som smaksättning. Lite mald sockertång fungerar som förtjockningsmedel i en röra. Klipp ner strimlor av sockertång i en moules mariniéres. Mycket god att använda mald i bröddeg. Umamirik. Lägg torkad sockertång i kokande vatten (eller slå kokande vatten över och låt dra), låt koka i ca 10 min, skölj i iskallt vatten, låt rinna av och använd i sallad eller lägg i en dressing av japansk soja, lime, ingefära, chili. Linda runt fisk och grilla. Papperspåse. Vikt innehåll: 10g. Ursprung: Bohuslän.
TÅNGPANNKAKOR
5 dl vetemjöl
8 dl mjölk
2 ägg
lite salt
3 tsk mald torkad sockertång
ca 25g smält smör + smör att steka i
Vispa ihop allt. Häll det smälta smöret i smeten. Stek pannkakorna. Servera med t ex lönnsirap och vispad grädde.
TÅNGPOPCORN
3 msk rapsolja
100 gram poppade popcorn
30 gram smör
1 nypa tångsalt
1 tsk rökt paprikapulver
2 msk torkad sockertång, mald eller flakes
Värm oljan i en kastrull på medelstark värme. Tillsätt popcornen. När det börjar poppa - skaka på kastrullen fram och tillbaka på plattan. Försök glänta lite på locket så att fukten kommer ut. Det gör popcornen torrare och sprödare. Häll upp de poppade porcornen i en vid skål. Tillsätt smält smör, tångsalt, paprikapulver och mald sockertång.
TÅNGBRÖD
3 g (3 krm) jäst
300 g (3 dl) kallt vatten
390 g (6 1/2 dl) mjöl
6–9 g (1–1 1/2 tsk) salt
ca ½ dl torkad mald sockertång (eller efter smak)
Rör ut jästen i vattnet och tillsätt sedan mjöl och salt. Rör kort (en halv minut räcker gott), täck med plastfolie eller lock och och låt stå 8–10 timmar i rumstemperatur (helst över natten). Är det riktigt varmt i rummet minskar du lite på jästen.
Häll ut degen på ett mjölat bakbord, dra ut den till en kvadrat och vik sedan ihop den till ett paket. Det är mycket viktigt att man inte knådar eller trycker på degen. Momentet gör att degen håller ihop bra.
När man vikt ihop degen kan man vända den upp och ner så öppnar den sig inte i skarven när den jäser. Så snart degen är ihopvikt sätter man på ugnen på full värme (ej snabbvärmen). Placera en oöm plåt på nedre hyllan i ugnen. När degen jäst någonstans mellan en halv och en hel timme skjutsar man in brödet i ugnen. Den där oömma plåten man ställde längst ner kan man lägga några isbitar på, de smälter till ånga som gör bröden fina.
Baka bröden på 250 grader, men titta till dem efter tio minuter eller så, har de då väldigt mycket färg sänker du till 200 grader. Lufta ugnen mot slutet, öppna en stund så att fukten åker ut. Det ger knaprigare skorpa. Baka bröden runt 40-45 minuter.
.
.
SUGAR KELP
Whole pieces of wild sun dried sugar kelp (Saccharina latissima). Soak for about 10 minutes or until it has softened. Good to wok, fry or deep fry. Will turn green when heated. Add small pices of dried sugar kelp in soups and pots. Use dried sugar kelp as a flavor. A little grounded sugar kelp acts as a thickening agent in a cold spread. Cut thin strips of sugar kelp into a moules mariniéres. Very good to use grounded in bread dough. Contains a lot of umami taste.
Put dried sugar kelp in boiling water (or pour boiling water on the seaweed and let stand for 10 min) and boil for about 10 minutes, rinse in ice cold water, let drain and use in a salad or serve with a dressing of Japanese soy, lime, ginger, chili . Wrap around fish and grill.
Paper bag.
Weight content: 10g.
Origin: Bohuslän.
Recipes:
SEAWEED PANCAKES
5 dl of wheat flour
8 dl milk
2 eggs
a little salty
3 teaspoons of grounded dried sugar
about 25g of melted butter + butter to fry
Mix everything. Pour the melted butter into the pan. Fry the pancakes. Serve with maple syrup and whipped cream.
SEAWEED POPCORN
3 tablespoons rapeseed oil
100 grams of popcorn popcorn
30 grams of butter
1 pinch of salted salt
1 teaspoon smoked paprika powder
2 tablespoons dried sugar kelp, ground or flakes
Heat the oil in a saucepan on medium heat. Add the popcorn. When it starts pop - shake the pan back and forth on the plate. Try to shine a little on the lid so that the moisture comes out. It makes the popcorn drier and brighter. Pour the pop corns into a wide bowl. Add melted butter, seaweed salt, pepper powder and ground sugar kelp.
SEAWEED BREAD
3 g yeast
300 g (3 dl) cold water
390 g (6 1/2 dl) flour
6-9 g (1-1 1/2 teaspoon) salt
about ½ dl dried ground sugar kelp (or to taste)
Stir out the yeast into the water and then add flour and salt. Stir briefly (half a minute is good), cover with plastic foil or lid and let stand for 8-10 hours at room temperature (preferably overnight).
Pour the dough on a floured baking table, pull it out into a square and then fold it together into a package. It is very important not to knead or press the dough!
When you have folded the dough, you can turn it upside down. As soon as the dough is folded, put the oven on full heat. Place a plate on the lower shelf in the oven. After 30-60 min, insert the bread into the oven. Put some ice cubes on the plate at the bottom - the steam makes the breads nice.
Bake the bread at 250 degrees C, but look at them after ten minutes or so, if they have very much color, lower to 200 degrees C.
Bake bread for 40-45 minutes.