NORDISK UMAMI #1 | NORDIC UMAMI #1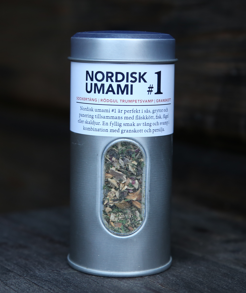 Price:
149 kr
Inc. 12% Tax
Quantity:
In Stock
See English below.
En perfekt kryddblandning till fläskkött, fisk, fågel eller skaldjur. Den har en fyllig smak av tång och svamp i en härlig kombination med granskott och persilja. Rekommenderas i varm mat såsom sås, grytor eller i panering.
Innehåll och ursprung: Isländsk sockertång (Saccharina latissima) 30% - innehåller jod.
Svensk rödgul trumpetsvamp 20%, finsk schalottenlök, tysk persilja, svenska granskott. Kan innehålla spår av skaldjur.
I samarbete med Svensk Gourmetsvamp.
Plåtburk. Vikt innehåll: 37 gram.
.
.
NORDIC UMAMI #1
A perfect spice mixture for pork, fish, bird or shellfish. It has a full-bodied taste of seaweed and mushrooms in a delicious combination of branchlet and parsley. Recommended in hot foods such as sauce, pots or pan.
Content and origin: Icelandic sugar kelp (Saccharina latissima) 30% - contains iodine.
Swedish red yellow trumpet mushroom 20%, Finnish shalots, German parsley, Swedish branchlet. Can contain traces of seafood.
In cooperation with Svensk Gourmetsvamp. Tin jar.
Weight content: 37 grams.